Page 24 - Arkansas 811 Magazine 2020 Issue 3
P. 24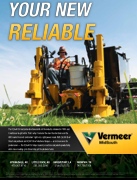 2
E
play optional or global-region speciic features, accessories or components. Please contact your local Vermeer dealer for more information on machine speciications. Vermeer Corporation reserves
2
•
A
qui
The D24x40 S3 horizontal directional drill set the industry standard in 1993 and it continues to get better. That's why it remains the most trusted choice on the HDD market to meet contractors' right-size, right power needs. With 28,000 lb of thrust and pullback and 4200 ft-lb of rotational torque — an increase over its predecessor — the D24x40 S3 helps maximize machine and jobsite productivity, while class-leading cycle times help get the job done faster.
pme
SPRINGDALE, AR
479.361.9110
LITTLE ROCK, AR
501.503.5300
SHREVEPORT, LA
318.678.1575
MEMPHIS, TN
901.758.1928
n
r
t
s
k
a
ho
w
n
s
a
n
i
s
8
sf
or
il
1
1
M
lus
tra
tiv
a
g
a
e
p
z
i
u
n
r
p
e
2
oses
o
0
n
2
ly
an
0
,
Is
d
m
s
u
a
y
dis
e
3
the right to make changes in product engineering, design and speciications; add improvements; or discontinue manufacturing or distribution at any time without notice or obligation. Vermeer and the Vermeer logo are trademarks of Vermeer Manufacturing Company in the U.S. and/or other countires. © 2020 Vermeer MidSouth, Inc. All Rights Reserved.