Page 24 - Arkansas 811 Magazine 2022 Issue 1
P. 24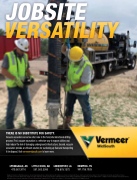 THERE IS NO SUBSTITUTE FOR SAFETY.
Vacuum excavators serve two vital roles in the horizontal directional drilling process. First, vacuum excavation is a effective way to expose utilities and help reduce the risk of damaging underground infrastructure. Second, vacuum excavatorsprovideaneffcientsolutionforsuctioningup uidandtransporting it for disposal. Visit vermeermidsouth.com to learn more.
SPRINGDALE, AR
901.758.1928
Equipment shown is for illustrative purposes only and may display optional or global-region specifc features, accessories or components. Please contact your local Vermeer dealer for more information on machine specifcations. Vermeer
479.361.9110
501.503.5300
318.678.1575
22 • Arkansas 811 Magazine
2022, Issue 1
LITTLE ROCK, AR
SHREVEPORT, LA
MEMPHIS, TN
Corporation reserves the right to make changes in product engineering, design and specifcations; add improvements; or discontinue manufacturing or distribution at any time without notice or obligation. Vermeer, Navigator horizontal directional drill and the Vermeer logo are trademarks of Vermeer Manufacturing Company in the U.S. and/or other countires. © 2022 Vermeer MidSouth, Inc. All Rights Reserved.